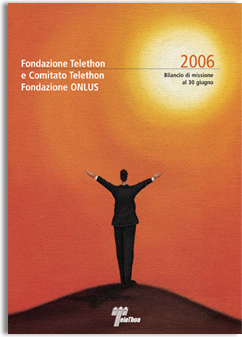 Annual reports are an almost mandatory communication item for most research organisations. A good report must showcase scientific achievements with a clear, concise style and convey an organisation's values and goals to a non-technical audience.
In 2006, the Telethon foundation asked me to review and edit their existing annual report in order to improve its readability and overall impact.
For fund-raising charities like Telethon, the annual report is particularly important: It helps stakeholders and potential donors evaluate the organisation's accountability, transparency and efficiency.
The original document focused on hard facts about the foundation and on financial figures. I suggested a radical content redesign. We eliminated several redundant or unnecessary sections of the document, and the first part of the report was shifted towards stories that exemplified the goals and achievements of the foundation.
Transparency and hard data were still essential in the report, but they were now presented within the context of a story. We placed stodgy financial figures in an annex outside the main body of the document and organised them more rationally. We hired a graphic studio for the cover and the layout.
The resulting report was shorter (which, incidentally, saved the foundation a few thousand euros in printing costs), easier to read and more informative for the average stakeholder. After that redesign, I edited five editions of the report, which received very positive feedback from readers and stakeholders.